Welcome
All Aspects Wedding Services - the one stop wedding shop for WEDDINGS..where personal service is guaranteed in this warm and friendly family run business. Based in Bournemouth and celebrating their 23rd year, they will endeavour to make your special day wonderful..
But it doesn't stop there - Should you want us to, we can arrange every detail from your bridal gown & bridesmaids dresses, to wedding car hire, we will even come and dress you on the day.
Gill and her friendly staff are available to help you plan "the big day". We encourage you to make an appointment so that we can provide you with a more personal service and give you the time needed. Nothing is too small for our attention.
We know how to advise and when to listen.
Nothing left to chance, nothing forgotten All Aspects Wedding Services can give you the complete service to make your wedding perfect. We will provide every detail, simply guiding you through the maze of decision making step by step.
Please have a look at our Bridal Gowns, Bridesmaid & Prom Dresses, Men's Hire Department, Wedding Cars, Dressing Service, Awards, Promotions and Testimonials sections whilst you are here.
We are the proud owners of Superwed Cars... offering a fantastic range of classic, vintage, modern and the more unusual bridal car.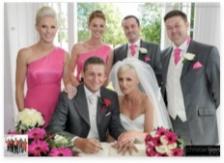 To all the lovely ladies at All Aspects,
We just wanted to say a Very big thank you for all your help with finding the Perfect Suits and Bridesmaids dresses for our Big Day.
Nothing was too much trouble and you gave us exactly what we wanted.
You made the whole experience wonderful. Thank you for putting up with us all. We will certainly be recommending you to all our friends.
Thank you again xxxxxxx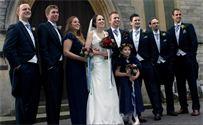 Dear Gill & Simon,
Just a not to say thank you for all your help with the wedding. The guys looked resplendant in their suits which fitted beautifully and Ellen looked gorgeous in her dress.
The cars looked great and it was lovely to see you both on the day. Thanks to Jude and Sam for the alterations. Must catch up soon.
Love from
Jessica and Tom